This post contains affiliate links...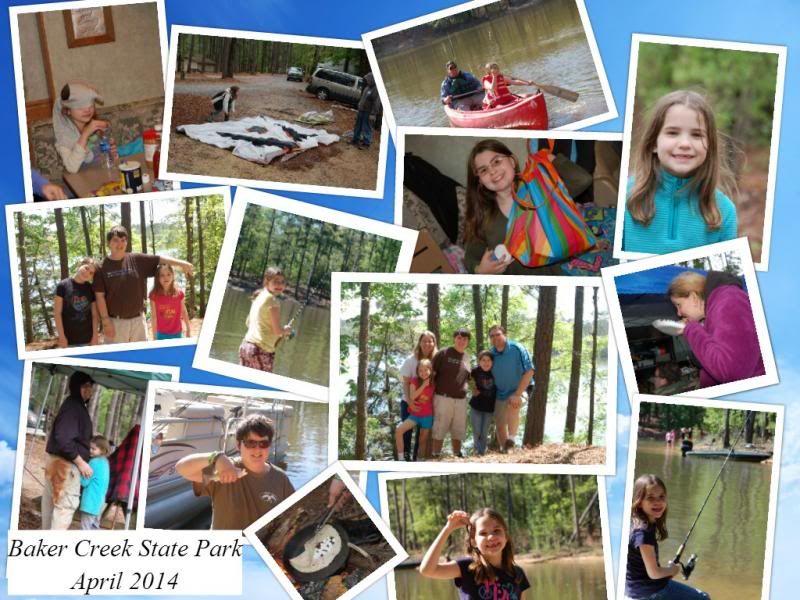 1
We spent the first few days of the week camping in a state park about 2 hours from home. The park was new to us, and it didn't make it in to our list of favorites, but it allowed us some time together enjoying God's creation, fishing (for the kids and dad) and canoeing. All in all it was a good way to spend the weekend. (Hubby may have a few different things to say - he spent most of the first day falling down or having something dropped on him)
2
The drive home was eventful though, when the RV started acting squirrelly. We assumed it was due to pulling our van, so we decided to drop the van, and I would drive it the rest of the way home. Not 20 minutes later, there was an enormous explosion, and the van bounced off the ground - or at least it felt that way. I had experienced my first blow-out. Fun times. So, I got to drive a van with a blown-out tire for 30 miles. Meanwhile, the RV continued to act weird, so the whole experiment was for naught.
3
Thankfully we made it home in time for me to enjoy a lovely, comfy, laid back supper with my CC director and my co-tutor at Panera Bread (yum!). I won't go into my love for CC again. You can read all about it
here
. But I will say that I am beyond blessed to be part of our amazing little community. God has truly brought each family into our group, and it shows. These ladies bless me beyond belief.
4
After that we were back to the grind. The kids were SUPER thrilled that we finished reading
The Voyage of the Dawn Treader
so that we could watch the movie. I told them before we started that we were going to keep track of any differences we found and afterwards we would make a list. About 20 minutes into the movie, the oldest paused it and said, "Mom, I think we should make a list of what's the same. It'll be a lot shorter." The general consensus was that we enjoyed it, but there were a lot of differences. If you haven't seen the movie and plan to, be forewarned that the writers take a lot of licenses while still staying true to the basics.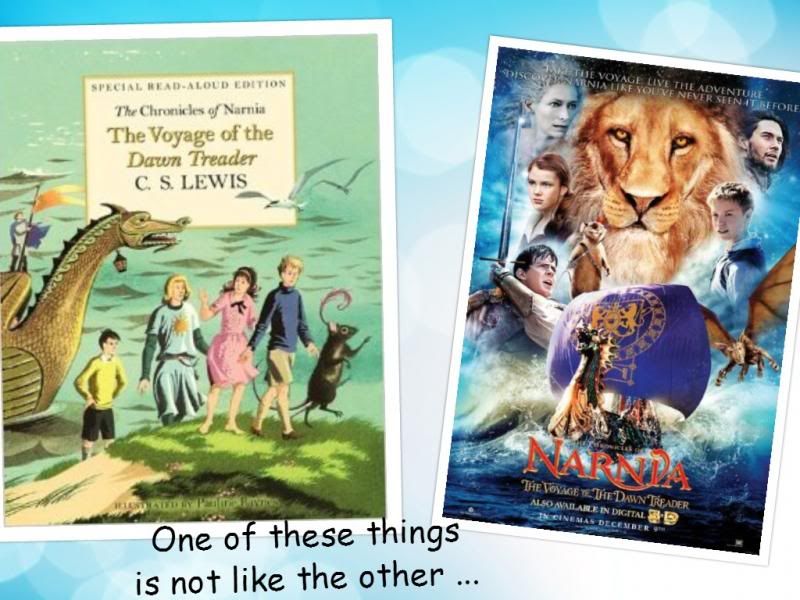 5
Since we finished
Dawn Treader
, we decided to back up in the series and read one we missed,
The Horse and His Boy
. This one isn't my favorite, but my son loves it and the girls are getting into it. I originally heard the book in an audio format though, so whenever I read it, I can hear the audio book reader's voice in my head. It's very strange.
6
For myself, I had another visit to the pain clinic, and we decided to try a different tactic. The doctor did these things called trigger point injections in which he injected pain med directly into the twisted up muscles on my neck. The hope is that it will make the muscles relax and loosen their grip on the nerves that go into my head giving me headaches. I gotta tell you. I have a really high pain tolerance. And those shots hurt. I praying that it was worth it.
7
Finally, and the biggest - so this really happened - of the week.
My husband took a new job!
This is huge for us. This is a job that is, hopefully, the result of 6 years of prayer. We are excited, and nervous, and still a bit wary. But mostly excited. His schedule will be a bit wacky - three 12 hour shifts worked on Saturday-Monday. Yet, since we homeschool, we can do weekend stuff as a family whenever we want. That said, it will be a new normal, and we hugely covet your prayers as we go into this transition period.
~~~~~~~~~~~~~~~~~~~~~~~~~~~~~~~~~~~~~~~~~~~~~~~~~~~~~~~~~~~~~~~~~~~~~~
That about covers it. Don't forget that there are only a few days left to get in on the amazing deal of the
Ultimate Homemakers Bundle
. If you haven't heard about this amazing deal, check out my post about it
here
and then go buy it. The sale only lasts until the 28th.
So, what happened in your world this week??
Linking up with
Weird, Unsocialized Homeschoolers
,
Homegrown Learners
, and
Conversion Diary
.
PS - If you got, saw, read an early and accidental run of this post that included only two of my list and was full of grammar and spelling errors - please forgive me!! I must have clicked publish rather than save. Ugh, yet another so this just happened....
Gratefully under His grace,