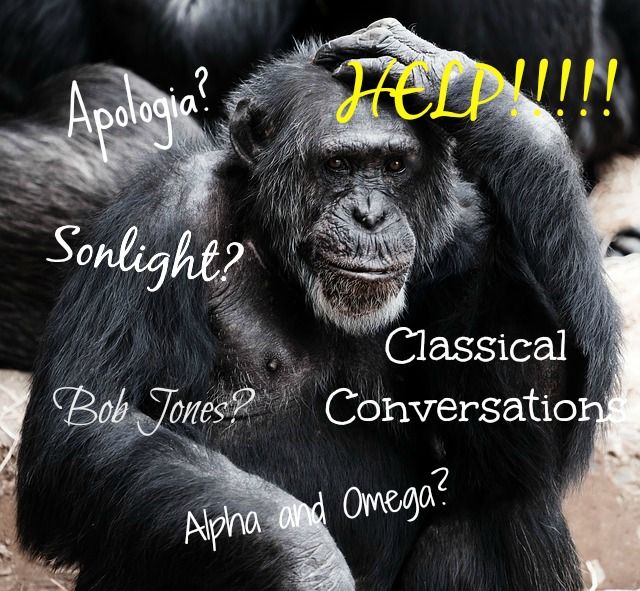 It's that time of year again when we homeschool families start questioning every curriculum choice we've ever made and looking at what everyone else is doing to see if perhaps they are doing something better.
At least, that was me. And every year I would come to this point, or earlier, and know that what we were doing was clearly not working for us. Or for me.
And it was in that spirit that this time 2 1/2 years ago I found myself sitting in an information meeting for parents about Classical Conversations. I had some basic understanding of classical education and believed in it. All I really knew about CC was that it involved a lot of memorization, there was a science experiment every week, and my friend Kristen loved it. But I was desperate, so I went to the meeting (and for an introvert like me to do that at that stage of my life was huge). To my horror, I was one of only two parents who came. Thankfully the other mom carried the conversation, but unfortunately I came away with a catalog, a feeling like I would never be as smart as their kids were, and only a slightly deeper understanding of the program.
Yet God, and my friend Kristen, persisted, so I decided at the very least that we would visit a class and I could get it out of my system. Then I'd be able to move on. I took my girls with me, of course, so I could get their perspective as well. Sarah went off with her potential age group, and Bethany and I went off with ours. And I sat there the whole time watching Bethany and thinking, "I know they hate this. This is awful. It's boring; it's horrible; this was a total waste of time. Ok God, this clearly wasn't the answer. Next..."
At the end of the morning, Bethany and I thanked the tutor, went to pick up Sarah, and as the three of us were walking into the parking lot, I said, "So, what did you think?" They both squealed, "I wish we could do this every week! That was so much fun!!" Talk about whiplash. I was completely stunned. Completely not what I was expecting. But totally what God had planned for our family.
Since then, we have come to love CC and completely embrace it. I often find myself thinking, "I wonder what would have been different if I had done this with John or if I had done this with Sarah earlier." But I know that one can never know what might have been, to roughly quote our family's favorite Narnian Lion. So I have to content myself with the fact that we are doing this now and just go forward.
So, why do I love
Classical Conversations
?
So far, we've only worked in the Foundations stage, which is the elementary stage. We move into the writing class next year, which I'm tutoring and I'm SOOOOOOO excited about (grammar nerd). But, based on our experience, here's a short list:
* Accountability - every week, someone will be know if my kids have done anything the week before. They may not be testing them on it or be expecting them to turn anything in, but I know in my heart that my girls' tutors will know if we went over our memory work and that helps to keep me on track.
* Science experiments ~ I am the worst at doing science. Other than visits to the children's science museum, I am a total fail at science.
* Fine arts focus ~ See above only replace
children's science museum
with
children's theater
.
* The timeline - I have enjoyed putting historical events in perspective based on when they occurred.
* Presentations - Supposedly public speaking is the second most frightening thing for most people. So I think it's a pretty effective way to prevent those fears from ever taking hold by making kids comfortable speaking in front of other people early on.
* And then there's all that memory work. What Andrew Kern of the
Circe Institute
calls "memorizing by heart." I'm looking forward to seeing how having those memory pegs in place helps as we move into the next stage of learning, the dialectic stage.
After 6 1/2 years of homeschooling, it is such a relief to have found that "thing" that fits our family. Of course, I'm still looking for the perfect fit for our oldest, but that's another story.
Linked up with List it Tuesday at
Weird Unsocialized Homeschoolers
and
Many Little Blessings